Gynecology
Your health is personal, and your needs and goals are unique. Our OB/GYN team uses their knowledge and experience not only to provide exceptional medical care, but to understand your concerns and wishes so they can tailor your care to your life.
Our board-certified physicians provide exceptional routine gynecologic and obstetric care, and we also offer a full range of specialists to address issues like incontinence, pelvic pain and infertility. By putting all of the resources you need in one place, we're making it easy for women to achieve optimal health at all stages of life.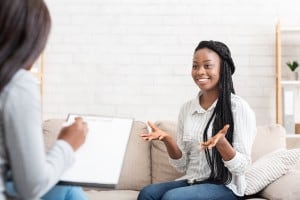 Our gynecological services include:
Annual well-woman and gynecologic exams
Family planning including birth control and fertility counseling
Routine screening for breast cancer and gynecologic cancer
STD screening and treatment
Management of reproductive system disorders including endometriosis, ovarian cysts, pelvic pain and more
For patients who decide to start a family, our OB/GYNs also offer exceptional prenatal and labor and delivery care. Our goal is to build a trusting relationship so we can offer you a full spectrum of care that addresses your changing medical needs.
Urogynecology and GYN Surgery
Problems like pelvic pain, incontinence and prolapse can harm your quality of life. Our skilled, compassionate urogynecology and GYN surgery providers want all women to know these are not conditions they simply have to live with.
We believe listening is the first step toward helping you identify the most effective treatment for your specific concerns and goals. Every patient receives a thorough evaluation and access to a wide range of surgical and non-surgical options to treat and manage their condition. By taking the time to understand all the possible causes of your symptoms and providing a comprehensive range of treatment options, we are a leader in helping women overcome a variety of diagnoses:
Chronic Pelvic Pain
Prolapse (the descent of pelvic organs)
Urinary leakage and incontinence
Bladder conditions including overactive bladder and painful bladder syndrome
Stool leakage and incontinence
If you require surgery, we specialize in minimally invasive procedures that reduce recovery time while providing optimal results. Thanks to our state-of-the-art technology and highly skilled physicians, the majority of patients can be treated via incisionless outpatient surgeries.
Pelvic Floor Physical Therapy
Strengthening the pelvic floor muscles can improve function, reduce pain and offer relief from a variety of conditions. Just like physical and occupational therapy are crucial components to improving wellbeing for patients with injuries and chronic illnesses, pelvic floor therapy gives patients another tool to overcome their symptoms and improve their overall wellness.
Pelvic floor muscles weaken for a variety of reasons, including aging, pregnancy and birth, and illness or injury. The result may be pelvic or abdominal pain, urinary dysfunction, prolapse, painful intercourse or painful bowel movements. Our therapists develop individual treatment plans based on therapeutic exercises to strengthen the pelvic floor, back, abdomen and core.
Our therapists understand these issues are sensitive, so they make sure your treatment plan is based on your individual goals and comfort level. We take a personalized approach and build an environment of trust to empower patients to play an active role in improving their health.
Midwifery
Midwifery is a patient-centered style of medicine that encourages women to take an active role in their own health care. Our Certified Nurse Midwives are an excellent match for women who are seeking a lifelong partner in improving their own health and that of their family.
Certified Nurse Midwives operate like nurse practitioners with special expertise in caring for women from puberty through menopause. Their style of care includes educational and support components, and they can help patients with all of their routine gynecologic needs:
Annual well-woman and gynecologic exams
Routine screening for breast cancer and gynecologic cancer
Birth control counseling and management
Basic primary care
Preconception care
STD screening
CHAD: Center for HPV and Dysplasia
The multidisciplinary team at our Center for HPV and Dysplasia specializes in the prevention of cervical, vaginal, vulvar and anal cancers related to the human papillomavirus. By providing expert care for patients with abnormal pap tests and other HPV and dysplasia risk factors, we can identify and treat precancerous lesions before they can develop into serious disease.
Our services include risk factor assessment and management, high-level monitoring, state-of-the-art screening and treatment, HPV vaccination counseling and patient education and support. We also offer specialized care for women and men who are chronically immunocompromised due to HIV, organ transplants and other conditions.
Locations and Contact Information
Main Campus
880 Madison Avenue, 3rd Floor
Memphis, TN 38103
| | |
| --- | --- |
| Gynecology | 901.515.3800 |
| Pelvic Floor Physical Therapy | 901.545.6290 |
East Campus
6555 Quince Road, 5th Floor
Memphis, TN 38119
| | |
| --- | --- |
| Gynecology | 901.515.3100 |
| Pelvic Floor Physical Therapy | 901.515.5900 |