Comprehensive Inpatient Rehabilitation
Specialized medical rehabilitation is an essential step on the continuum of care after a serious illness or injury. Regional One Health's Inpatient Rehabilitation Hospital has a proven track record of helping patients continue healing, regain independence and return home.
About Us
Regional One Health Inpatient Rehabilitation Hospital is a 23-bed inpatient facility in a newly renovated space with attractive, spacious private rooms. Our physicians, nurses, therapists and other professionals form a team that understands health and healing and is committed to enhancing the quality of life for those we serve.
Our rehabilitation program is accredited by the Commission on Accreditation of Rehabilitation Facilities International (CARF) and The Joint Commission. The accreditation process is based on rigorous specific standards, ensuring we provide the highest-quality inpatient rehabilitation services. Our specialty programs serving adult and adolescent patients include Comprehensive Medical Rehabilitation, Spinal Cord Injury and Brain Injury.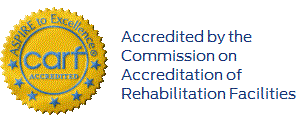 Our Programs
Our facility treats patients with a variety of diagnoses. In all of our specialized programs, medical management and nursing services are provided around the clock, and therapy is offered up to 7 days a week during daytime hours.
Comprehensive Medical Rehabilitation
Spinal Cord Injury Specialty Program
Brain Injury Specialty Program
Major Multiple Trauma
Stroke Rehabilitation Program
Orthopedic Care
Burn Rehabilitation
Click to learn more about our specialized medical rehabilitation programs.
Additional Services
We provide a full continuum of services within with Inpatient Rehabilitation Hospital. Also, as part of the Regional One Health system, patients can access onsite services including diagnostic imaging, laboratory services, ostomy and wound care, hyperbaric oxygen therapy, dialysis, ENT-audiology, cardiology, nephrology, ophthalmology and more.
Admissions Criteria
We admit medically-stable patients who have a rehab diagnosis and who require supervision by a rehabilitation physician, 24-hour skilled nursing care, and ongoing physical, occupational and/or speech therapy. Other criteria include:
Patients must be able to tolerate at least three hours of therapy daily or 15 hours of therapy over a 7 day period.
Doctors, case managers, nurses or therapists may refer a patient following an injury or elective surgery.
Patients may self-refer.
Patients are not required to have a hospitalization prior to being admitted to the rehabilitation hospital.
Some restrictions apply. Learn more about admissions on our 'What to Expect' page.
How to refer a patient
Our Team
As rehabilitation specialists, our providers have dedicated their careers to helping patients get back to the life they enjoyed before an illness or injury. Every patient's care is led by a rehabilitation physician in conjunction with rehab-trained nurses. Patients also have access to physical, occupational, recreational and speech therapists, as well as case managers and social workers who offer support with discharge and the transition home.
We believe you and your caregivers are an integral part of the team. We seek your input and feedback throughout your stay to ensure your treatment program is always customized to your individual needs and goals.
Meet our Medical Director
Mario Ray, MD, FACP, is a physician and Hospitalist Medical Director at Regional One Health and an associate professor in the department of medicine at University of Tennessee Health Science Center. Dr. Ray received his medical degree and completed his internship and residency in internal medicine at University of Tennessee Health Science Center. Dr. Ray is also Hospitalist Medical Director at Regional One Health.
"My mom was an ICU nurse at Regional One Health, in the '80s and '90s, and brought me to work with her to get her check," Dr. Ray shared. "While waiting on her, there were several code blues in the unit and the doctor calmly directed everyone to do their jobs and I thought, 'That is the coolest thing I have ever seen and that is going to be me someday!'"
Dr. Ray has a passion for taking care of patients and doing his best to make a positive impact in their lives. "My favorite philosophy is 'a good physician has no patients because he has done his job and the patients are healthy and can take care of themselves.' That is what I work towards," Dr. Ray said.
Dr. Ray grew up in the Orange Mound/Cherokee Heights area and is grateful for where he is today. "With the help of God and a handful of mentors in my life, I have come a long way," Dr. Ray shared. "Without the help of others, I would not be where I am today."
Meet our Care Team
What to Expect
We are committed to exceeding your expectations by providing high-quality, safe, personalized care in a professional, compassionate and friendly manner. We understand rehabilitation can be a challenging journey, and our staff is trained to support you physically and emotionally throughout your stay. We help you navigate your care and stay positive so you can focus on rehabilitation as a valuable step toward returning home and starting your new normal.
Our track record speaks for itself. Our patients have shorter lengths of stay and a greater likelihood of discharge home, and in surveys, 100 percent of our patients say they are likely to recommend the Inpatient Rehabilitation Hospital to others. read more
From our Patients
We are committed to exceeding customers' expectations by providing high-quality, safe and personalized care in a professional, compassionate and friendly manner. In surveys, 100 percent of our patients say they are likely to recommend Regional One Health Inpatient Rehabilitation Hospital to others:
Location and Contact Information
Rehabilitation Hospital
880 Madison Avenue
3rd floor of Turner Tower
Memphis, TN 38103
| | |
| --- | --- |
| Admissions Office | 901-545-8746 |
| Administrative Director | 901-545-7376 |
| Rehabilitation Case Manager | 901-545-7114 |