Specialized Care for Complex Needs
After the acute phase of a serious illness or injury, many people need specialized inpatient care to continue their recovery. Regional One Health's Skilled Nursing Subacute Unit is the Mid-South's recognized leader in providing post-acute medical and rehabilitation treatment.
Regional One Health Subacute Care is among an elite 13 percent of facilities to earn "High Performing" status in the annual U.S. News & World Report Best Nursing Home rankings, and has been recognized on the prestigious list for four years in a row. This distinction reflects our exceptional health care professionals, highly effective therapy program, and excellent track record for pain management and patient safety. Furthermore, because Regional One Health is the region's Level-One Trauma Center, we have the expertise and resources to accept and care for the most severely injured and ill patients.
We are also dedicated to approaching each family with compassion and empathy. We support patients and caregivers as they adjust to their "new normal" and plan the next steps in their care. Our goal is to help every patient achieve maximum independence through top-quality medical treatment, education, and access to resources within our health care system and the community.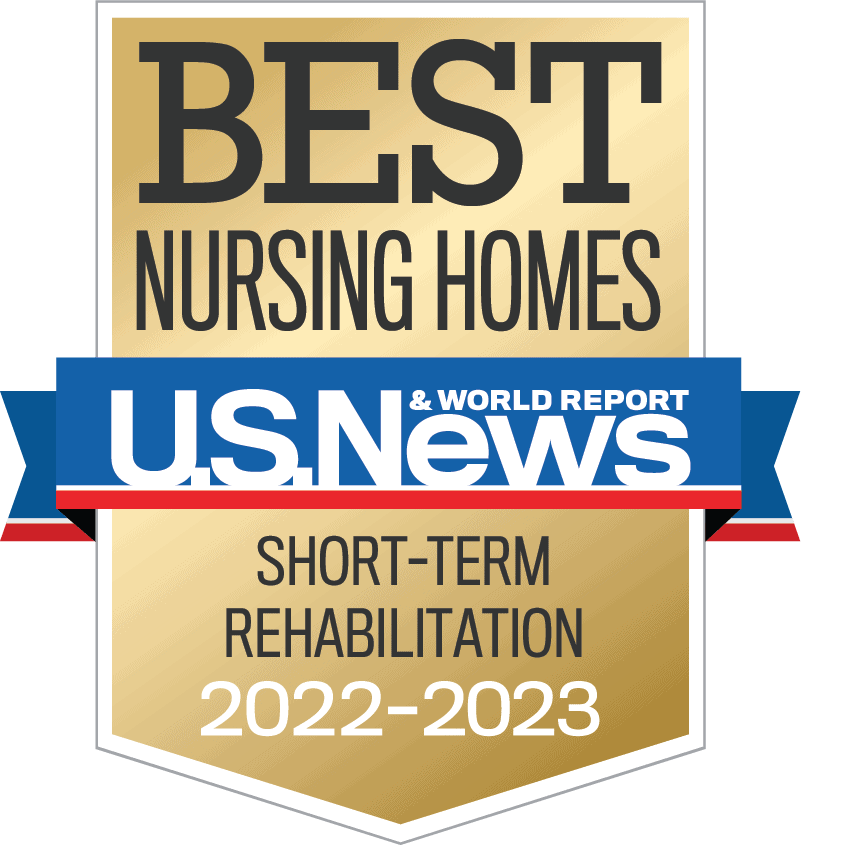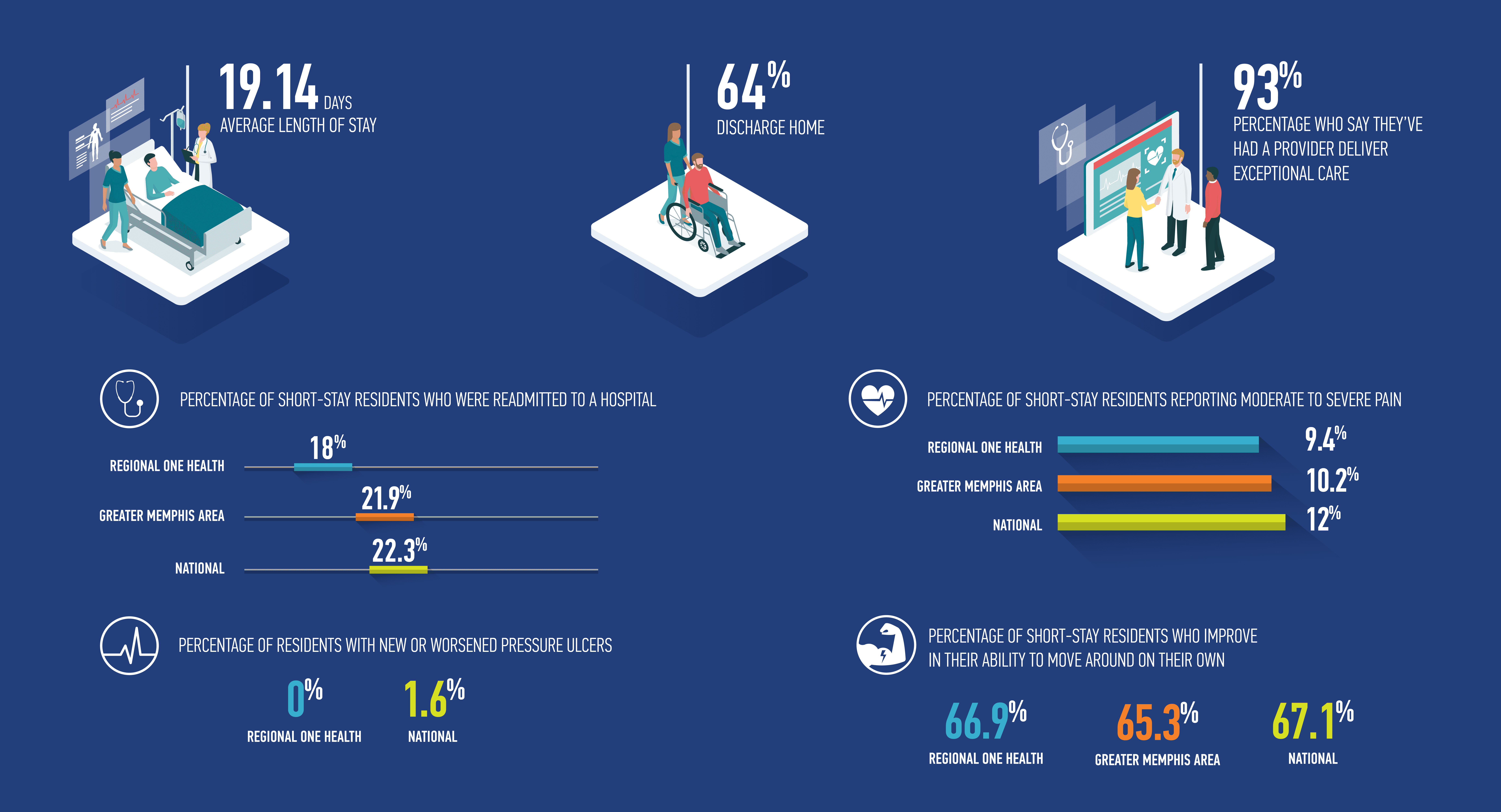 Subacute skilled nursing care is designed to help patients continue their recovery from a major illness or injury. Our patients have completed the acute phase of their hospital stay, but still need intensive medical treatment to rebuild their strength and health to a point where they are ready to participate in more intensive rehabilitation therapy, or to go home safely with self or assisted care provided in the home
Patients come to us with a variety of complex medical conditions, including stroke, head injury, dementia, fractures, paralysis, and other traumatic injuries.
Our patients must meet the following admission criteria:
A hospital stay of at least three nights, excluding observation time, within 30 days of admission for the same condition. Exceptions include insurance precertification approval.
Medically stable as determined by the patient's physician.
Requires skilled nursing care seven days per week or skilled rehabilitation services provided by a qualified therapist at least three to five times a week.
Requires a short-term stay (20 days or less).
Has a defined or viable discharge plan.
Our facility serves the region's Level-One Trauma Center, which means we have the resources and expertise to treat patients with the most serious and/or traumatic conditions. Therefore, we can admit patients with the following considerations:
Tracheostomy
Burns
Traumatic Wounds
Pressure Wounds
CPAP
IV antibiotics
Specialty orthopedic care
Pacemaker or life vest
Colostomy
Stable Chest Tubes
We cannot admit patients who are ventilator dependent, present a danger to themselves or others, are under age 18, require hemodialysis, require isolation in a negative pressure room, require chemotherapy treatments or medications, or require prenatal care.
The Regional One Health Subacute Skilled Nursing facility accepts Medicare and Managed Medicare plans and most commercial insurance plans to cover room and board, skilled nursing care, therapy services, supplies, tests and procedures and medications.
Our Services
Our multidisciplinary team includes board-certified physicians, licensed nurses, therapists specializing in rehabilitation for patients with complex needs, and social workers. Upon admission, each patient consults with their physician to establish a treatment plan tailored to their individual diagnosis. Physicians see every patient at least twice a week throughout their stay to ensure their medical treatment and therapy plan continues to meet their needs and goals.
While every patient's treatment plan is different, patients have access to a full range of services:
Skilled Nursing Care
Skilled nursing care is a high-observation level of medical care delivered by specially licensed and certified nursing professionals who work with patients on rehabilitation therapy, monitoring of vital signs, wound and catheter care, IV therapy and injections, and other medical needs.
Our experienced team is led by a dedicated Director of Nursing, specializing in subacute and skilled nursing care. We provide around-the-clock medical care and monitoring for our patients with a one-to-seven nurse-to-patient and certified nursing assistant-to-patient ratio.
Comprehensive Rehabilitation Therapy
Our rehabilitation therapy program focuses on helping patients build strength and mobility and gain independence. Physical therapy addresses major motor skills like walking and changing position, occupational therapy works on self-care activities such as eating and grooming, and speech therapy helps improve communication and cognition.
Patients work one-on-one with experienced therapists for up to three hours a day five days per week. Our rehabilitation program is designed to help patients relearn skills and build the strength they need to take the next step in their continuum of care.
Certified Lymphedema Therapy
Our certified lymphedema therapist works with patients who require specialized care for lymphedema, a type of swelling caused by a blockage in the lymphatic system. We help patients address swelling, pain and discomfort through exercises, wrapping, massage and compression.
Group and Individual Activities
In an effort to enhance quality of life for our patients, we offer a multigenerational program of activities that allows our patients to live life to the fullest extent possible. Activities range from self-directed events to group events including the It's Never 2 Late technology, iPads, arts & crafts, games, movies, and spiritual and celebratory activities. We believe patients respond best to activities of interest promoting optimal outcomes.
Specialist Care
Patients in a subacute skilled nursing setting often require care from a variety of specialists. As a large health care system and research institution, Regional One Health provides onsite access to a full range of medical specialists and services including pharmacy and clinical nutrition. Our physicians and nurses coordinate optimal care based on your individual needs and medical status.
Our Facility
Our facility is designed to provide the state-of-the-art medical care patients need in a comfortable and healing environment. We offer eight private rooms that have an additional sleep surface for a support person, as well as six semi-private rooms. During the stay, we strive to provide each patient with a "homelike" environment or experience.
Meet our Medical Director
Mario Ray, MD, FACP, is a physician and Hospitalist Medical Director at Regional One Health and an associate professor in the department of medicine at University of Tennessee Health Science Center. Dr. Ray received his medical degree and completed his internship and residency in internal medicine at University of Tennessee Health Science Center. Dr. Ray is also Hospitalist Medical Director at Regional One Health.
"My mom was an ICU nurse at Regional One Health, in the '80s and '90s, and brought me to work with her to get her check," Dr. Ray shared. "While waiting on her, there were several code blues in the unit and the doctor calmly directed everyone to do their jobs and I thought, 'That is the coolest thing I have ever seen and that is going to be me someday!'"
Dr. Ray has a passion for taking care of patients and doing his best to make a positive impact in their lives. "My favorite philosophy is 'a good physician has no patients because he has done his job and the patients are healthy and can take care of themselves.' That is what I work towards," Dr. Ray said.
Dr. Ray grew up in the Orange Mound/Cherokee Heights area and is grateful for where he is today. "With the help of God and a handful of mentors in my life, I have come a long way," Dr. Ray shared. "Without the help of others, I would not be where I am today."
Our Care Team
From Our Patients
"I'm so glad they brought me here, because they made me feel like family and took such great care of me. I know I'm lucky to be alive, and that they helped me get there."
Patient Outcomes
As subacute skilled nursing specialists, our goal is to help every patient continue their recovery, regain strength and improve physical and cognitive skills so they can continue with more strenuous rehabilitation, either at an inpatient facility, or a safe transition home, with in-home services as applicable. All this helps the patient stay on the path to independent living. Our facility is a leader on the major metrics used to gauge patient outcomes. Most importantly, we have a proven track record of discharging more patients to a home setting in a shorter amount of time.