The June issue of Memphis Magazine features the annual Top Doctors list, and 13 physicians who practice at Regional One Health were among the honorees.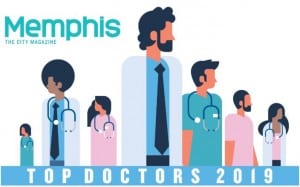 These specialists have been chosen among their peers as the best in their field.
Regional One Health is proud to partner with the top doctors in the Mid-South, together providing compassionate care and exceptional services to our community.
Honorees this year include:
Patricia Adams-Graves, MD – Hematology
Giancarlo Mari, MD – Maternal Fetal Medicine
Ramasubbareddy Dhanireddy, MD – Neonatal/Perinatal Medicine
Ajay Talati, MD – Neonatal/Perinatal Medicine
Jesus Martinez, MD – Neurology
Claudette Shephard, MD – Obstetrics and Gynecology
Phillip Langsdon, MD – Otolaryngology/Facial Plastic Surgery
William Hickerson, MD – Plastic Surgery
Scott Sinclair, MD – Pulmonary Disease
Laura Detti, MD – Reproductive Endocrinology/Infertility
Anthony Patterson, MD – Urology
Robert Wake, MD – Urology
Michael Rohrer, MD – Vascular Surgery
The Top Doctors list is compiled each year by a physician-led group of researchers at Castle Connolly Medical Ltd. The full list of Top Doctors can be found in the June 2019 issue of Memphis Magazine.