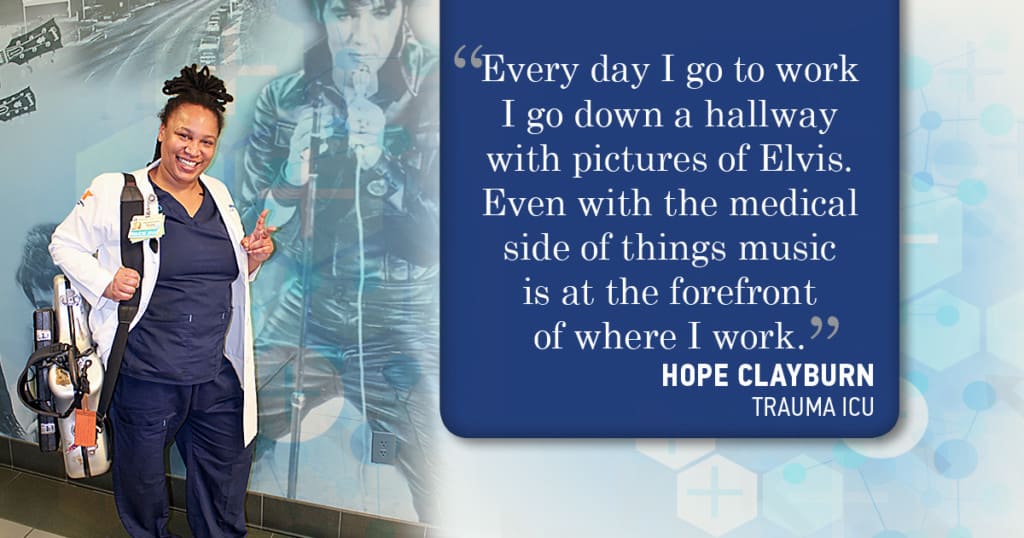 Hope Clayburn has a couple of jobs that require her full attention during the nighttime hours. One, she's a Trauma ICU nurse at Regional One Health.
But when not working as part of the elite trauma team at Regional One Health, she often is found playing flute and saxophone and singing on stages across town, not to mention in Vietnam and Brazil where she often plays with her own bands.
Hope's road to nursing was a winding one. Her path began as a student at the University of Virginia where she was pre-med and planned to attend medical school. But then the pull of music after graduation took her on the road, touring around the world with the likes of The Allman Brothers Band and James Brown.
Hope's love of music began in high school, as did an interest in science. The pull of science remained in the back of her mind even as she played music. She ultimately left New York City and moved to Memphis to be closer to family – and keep playing music while continuing her education.
"I did genetic research at University of Tennessee and saw the nursing program," she said. "I decided to try that while playing shows on Beale Street at night. I did shows, studied and then went to school at UT."
She was an ER nurse for a year before taking a year off to tour with a Nashville-based band.
"But I still missed medicine. I like helping people out," she said. "I wanted to challenge myself with the critical care side of things."
She's going on her 10th year at Regional One Health, with nine of those years in Trauma ICU. She couldn't be happier with the assignment.
Of course she's a big part of the Memphis music community when not working 12-hour nursing shifts. Her main influence is Prince with a taste of the best James Brown shows. She's energetic on stage where she mixes soulful, funky dance music with African, Latin and Memphis sounds to create her own party music.
The connection of rock royalty to her workplace in the Elvis Presley Trauma Center isn't lost on Hope. The Elvis Presley Trauma Center is the only freestanding building named for the King after a donation from the Elvis Presley Fan Club. Fans all over the world have sought ways to remember Elvis Presley. In response to these requests, in 1990 the Regional One Health Foundation established a "Wall of Honor" where nearly 300 plaques are held today, each dated and inscribed according to the wishes of the donor.
"Every day I go to work I go down a hallway with pictures of Elvis," she said. "Even with the medical side of things music is at the forefront of where I work."
Regional One Health provides Hope the opportunity to grow her knowledge of health care. Doctors, for example, have a specialty. As a trauma nurse Hope gets the opportunity to expand her knowledge. It's an attractive opportunity for a free spirited musician who has traveled the world, both as a touring musician and growing up as a "military brat."
"As a nurse I'm in trauma but maybe I could one day be in neonatal or administration," she said. "What I was most scared about with the idea of medical school is it's so intense about one thing. Some folks feel a calling for that but I've been a free spirit and I want to go where the world takes me. I can work in any area as a nurse. Nursing provides the freedom to go around the world."
Are you interested in joining Hope and the nursing team at Regional One Health? Learn more about our great group of A-Team nurses and all of our open positions at RegionalOneHealth.org/Nurses.