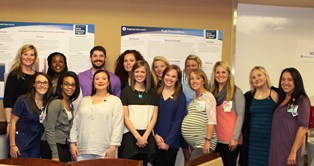 Fifteen nurses just completed their work as part of the third cohort of Regional One Health's Nurse Residency Program.  The group celebrated their accomplishments with co-workers and Regional One Health leadership at a gathering where they heard positive feedback on their performance in the program from their supervisors. The event also provided an opportunity to share results from projects they worked on during the past year.
The Nurse Residency Program is designed to empower, engage and educate new nurses through a series of learning and work experiences designed to assist the new graduate nurse in the transition to their first professional role and become leaders at the patient's bedside.
The Nurse Residency Program was launched in 2014 and is funded in part by Regional One Health Foundation.  Click here to learn more about the program.