When it comes to talking to her patients about menopause, Diane Todd Pace, PhD, APRN, FNP-BC, NCMP, FAANP, FAAN likes to start with a question:
"Did you know menopause is just a single day in your life?" she asks. "It's the day on which you've gone without a period for 12 months. After that, you're post-menopause."
It's one of many surprising facts Dr. Pace, a Certified Menopause Practitioner through the North American Menopause Society, shares with patients in her candid, straightforward style.
Dr. Pace feels no one should be too embarrassed to discuss how menopause can impact physical, emotional and sexual wellbeing, and she's on a mission to make that clear to women in the Mid-South.
As part of Regional One Health's OB/GYN and Menopause Care services, Dr. Pace is spearheading a new menopause support group at Regional One Health's East Campus aimed at empowering women at midlife and beyond by helping them to understand menopause and arming them with information to make smart health care decisions.
The Transitioning Through Menopause group meets the first Thursday of each month starting February 7 from noon to 1:15 p.m. in the third floor conference center (suite 300) of the East Campus at 6555 Quince Road, located off the Kirby Parkway exit of 385.
There will be no July meeting due to the 4th of July holiday.
Pace and OB/GYN Pallavi Khanna, MD, who is also NAMS certified, will facilitate, and other subject matter experts will join them to discuss specific topics.
Meetings include a 30-minute presentation followed by Q-and-A and discussion. Refreshments will be served.
Topics include:
Menopause 101: It's not the same for all women
Vasomotor Flushes: Managing the HOT
Hormone Therapy: Truths and myths
Genitourinary Syndrome: What women should know but are rarely told
Sex: It's a quality of life issue
Incontinence at my age?
Breast health: What should I know?
Stand up straight: What's happening to my bones?
Managing weight gain at midlife
Managing depression during menopause
Women who attend the support group meetings will also have the opportunity to join an online community that keeps the conversation going.
Dr. Pace first became fascinated by menopause over 20 years ago when she started her PhD program. She had decided to research labor and delivery and women's health, and her mentor invited her to go along to a conference for a new professional society focused on menopause.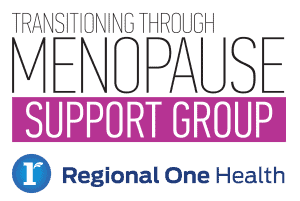 She was 44. "My mother had never talked to me about menopause, and there I was rapidly approaching it," Dr. Pace said. "I fell in love with that conference. I immediately knew I wanted to join, get involved, serve on committees. Since 1996 I've only missed one year of attending the conference for that organization, and that was my 30th wedding anniversary."
She has been certified by NAMS since 2001, and is the only Nurse Practitioner to serve as the organization's president. She has also been named NAMS' Certified Menopause Practitioner of the Year. Dr. Khanna was certified in 2017.
They'll use their expertise to empower women by educating them about what menopause is and giving them the facts they need to make their own treatment decisions.
They will explain how menopause can impact sleep, mood and weight gain; and cause symptoms like hot flashes, brain fog, vaginal discomfort and more, all of which can hamper relationships, career and quality of life.
Dr. Pace and Dr. Khanna will educate women about their treatment options. "Women have choices, but we're not giving them the choices," Dr. Pace said. "I have enough respect for my patients to give them evidence-based data and look at it together and see how they feel. I don't have to judge you about your decision – it's still your decision."
Above all, she wants to remove any embarrassment surrounding menopause, give women a forum to share advice, and make it clear life after that single day that marks "menopause" can reflect the saying, "It's not the amount of days in your life; it's the amount of life in your days."
To that end, when Dr. Pace gives presentations on menopause, she shows a photo of an 85-year-old woman. The woman is stretching before setting off to run the Boston Marathon.
"Menopause is not a disease but a unique time in a woman's life to set new goals towards healthy aging. I use a shared decision-making approach to develop an individualized plan of care for every woman," she said.
For more information on the Transitioning Through Menopause support group, contact Natasha Donerson, Director, Business Development and Market Relations, at 901-515-3941 or attend the first meeting on February 7.