Regional One Health's Skilled Nursing and Subacute Care facility is being recognized by US News and World Report as one of the nation's Best Nursing Homes and the only Top Performing facility of its kind in Memphis. It's an honor based on data and statistics, but for Subacute Administrator Nicole Lowe and Subacute Director of Nursing Theresa Traylor, the true reasons for the facility's excellence are much more human than numbers and charts.
"We care for people during some of the most difficult times of their lives, and you have to have compassion and empathy. It takes special people to be able to do that, and it has to be your life's passion. Those are the type of people we have working here," Lowe said.
"They make it happen every single day," Traylor added of the unit's 27 employees, a number that will grow as Subacute Care expands from serving 16 patients to 20. "Our employees are knowledgeable in long-term care and skilled nursing, they're excellent clinicians, and they have high accountability. That's what we look for when we interview and select candidates."
These uniquely-skilled employees offer a uniquely intense level of care.
Subacute Care is for clinically complex patients who suffered a trauma or a major illness such as a stroke. Regional One Health's designation as a level one trauma center means it can accept patients with more severe conditions than a typical skilled nursing unit, and the team can care for adults of all ages and with a wide variety of conditions.
Patients come to the unit when they're stable enough for discharge from an acute care hospital but still need skilled nursing treatment like complex wound care, IV antibiotics, and physical, occupational and/or speech therapy before they're ready to go home.
Traylor and Lowe said that has significant value for everyone: patients get the care they need to get back to normal and prevent relapse and readmission, and the hospital and community benefit from acute care beds being freed up to serve new people in need. As Traylor noted, "If there's a major trauma incident near Memphis, the patients really need to come to Regional One Health."
It's a statement borne out by US News and World Report.
The magazine assigns ratings from "High Performing" to "Poor" based on long-term chronic care and shorter-term rehabilitation. Data used to evaluate the facilities includes staffing, health inspections, pain control measures, hospital-acquired infection numbers, appropriateness of the therapy minutes provided and more. Of 39 eligible nursing homes in the Memphis area, Regional One Health Subacute Care was the only one to earn a "Top Performing" rating.
It's an outcome that has been in the making since the facility opened in late 2015, and one Traylor remembers speaking to when she interviewed to be one of the original care providers.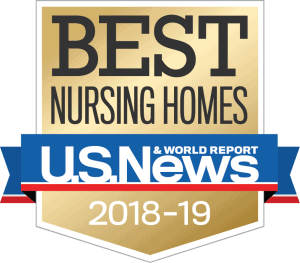 Her sister had benefited from acute care at Regional One Health after a trauma, and she had it in her heart to give back: "I knew it was something I would love to be part of, and I remember in my interview I told them, 'I'd like to be part of making this one of the best units in the city.'"
She credits Lowe, hired in 2016, with taking the facility to its current level of excellence, with a ratio of one nurse for every six to seven patients, average lengths-of-stay below the 20-day benchmark, a full range of medical services and quality-of-life activities, and outcomes that have patients going home healthy and as close to their previous level of functioning as possible. They got there by integrating with the rest of Regional One Health, giving patients access to specialists at their bedside and nurses who can provide both skilled nursing and acute care.
While being honored by US News and World Report is exciting – "Seeing it on their website feels fantastic," Traylor said – it is the moments with the people they care for that matter most.
"We just had a lady go home, but first she wanted to make sure there were hugs all around and that we knew how much she appreciated the care," Traylor said. "That's what keeps us going."
"It's rewarding to hear someone say, 'If it hadn't been for you pushing me and motivating me and working with me, I wouldn't be here,'" Lowe said. "We try to provide the highest level of care to our patients, and to make it the best home away from home possible."
You can read the full US News and World Report article online here.