This is part two of our One Health Update. Click here to read part one. 
For the patients in Regional One Health's ONE Health complex care initiative, navigating the healthcare system can be more than just difficult. It can be impossible.
Project Manager Megan Williams describes how patients with mental health issues struggle even making and keeping appointments. If they do, their behavior may seem disruptive or threatening, causing them to be removed. Their untreated condition gets worse, and a vicious cycle continues.
Susan Cooper, Senior Vice President and Chief Integration Officer, tells the story of a man with a genetic condition that impacts balance. He came to ONE Health after visiting the emergency department with third degree burns from falling while cooking; at the time, he was living in an abandoned home. A $400 genetic test would mean a diagnosis and path to Social Security, housing, insurance, primary care, etc. – but no one did the test until ONE Health intervened.
"There were too many short-sighted decisions. He isn't going to get better, but by investing on the front end, we could improve his quality of life," Cooper said.
It illustrates how even applying for Medicare, Social Security, etc. isn't easy for ONE Health patients. "You're dealing with a system that isn't built for someone like you," Cooper said. "The system tends to disenfranchise those who need us most. We have to demonstrate more empathy."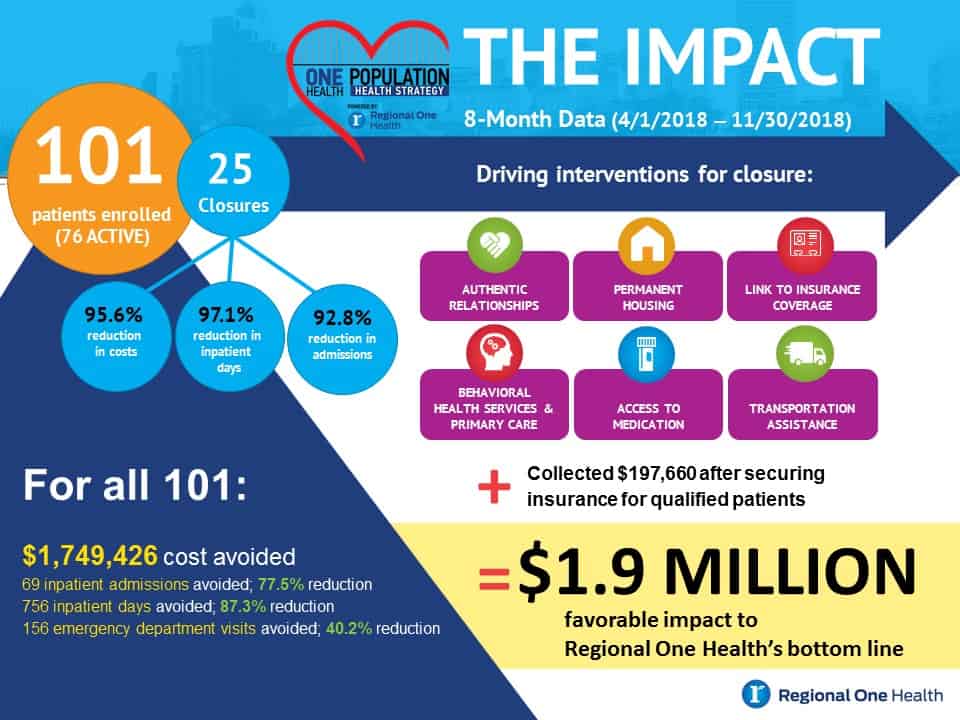 ONE Health was created to do just that.
By addressing the needs of healthcare super-utilizers who account for an outsized percentage of costs, the initiative is improving the health of vulnerable residents and saving money. Numbers released for the first six months show drops in inpatient stays, emergency room visits and admissions, as well as a $1.9 million benefit to Regional One Health's bottom line.
Getting to those results involves changing how care is delivered and focusing on more than just medical needs. "We're working on creating an ecosystem of care where Regional One Health is the facilitator," Cooper explained. "Our partners are experts in the fields they serve, and we want to utilize their skills and services to meet patients' needs."
The initiative uses the skills of both nurses and social workers, who start by helping patients pick domains where they need support: housing, transportation, insurance, employment, primary care, etc. Each domain is connected to services: Memphis Area Transit Authority, federal insurance and housing programs, food stamp offices at churches, etc. Regional One Health also provides financial assistance for copays and medications and connects patients with primary care.
"It's a lot of hand-holding to start, and we bring services to one place, because it's hard for them to get from Point A to Point B," Williams said.
Partnerships are key. As Cooper noted, Regional One Health may be the expert in medical care, but it can't expect to provide the same level of expertise in housing, job placement, etc.
The Regional One Health Foundation helped get funding from the Assisi Foundation and others for the work to begin, and engaged the Camden Coalition, which has done similar work in New Jersey, as a key initial partner. "Those organizations and the Foundation Board stepped up in a big way to provide that initial funding that propelled this work to get us where we are today," said Patrick Byrne, Regional One Health Foundation Director of Development.
From there, the ONE Health team built out local partnerships. Williams said Alliance Healthcare Services, a safety net mental health provider, has been crucial; as have groups that address food needs, homelessness, etc. "When I go to partners, they're astounded a hospital is committing to this. They look at you like, 'Is this real?' But when they find out it is, they're excited," she said.
Finding more partners is a major goal for ONE Health, as are opening a clinic with a doctor on staff, serving Medicare and Medicaid patients, and screening every patient for social factors that influence health. Cooper said Regional One Health also wants to be a site for data collection, research and education on the complex care field.
Cooper noted while about two dozen people have graduated ONE Health by obtaining insurance and closing their domains, the need remains steep – she estimates for every patient they help, there are 15-20 more for whom they could intervene.
"The people we work with make decisions we don't understand, but they make the best decision they can within their environment," Cooper added. "If you can put people in a safe environment where they become somewhat self-sufficient or have wraparound services, you have the potential to change the trajectory of their life. It's work worth doing."
Byrne said the Foundation looks forward to supporting more resources for ONE Health. "We've seen the results with one care team. What if we had two or three?" he asked. "We recognize the need, and it's encouraging to see others understand Regional One Health is well positioned to address this issue. I give credit to those that stepped up to support this – they're giving people hope. If you have a heart for people, it's hard to deny this is what we should do."