Jerry Jones, MD, believes there are better ways to address patient's pain than prescribing opioids. As an anesthesiologist at Regional One Health, Dr. Jones helps patients manage exceptional acute pain, and he believes it's possible without giving patients opioids.
Memphis Medical News recently featured Dr. Jones. In the article he discussed methods of treating acute pain with nerve blocks instead of opioids.
"Just giving people tons of narcotics, that system is no longer sustainable," Dr. Jones told Memphis Medical News. "It is dangerous, it doesn't work and it is much more expensive than people realize."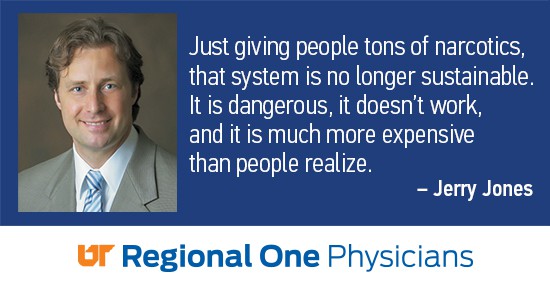 Dr. Jones began performing continuous peripheral nerve blocks for patients to extend the duration of pain relief while working in Oak Ridge, Tennessee, at Methodist Medical Center. The anesthesiologists there injected a single dose of numbing medicine around the nerves that control pain in the affected area. It was effective for as much as 18 hours, but the pain always returned.
Dr. Jones extended pain relief for patients with the continuous peripheral nerve block.
Over the years, Dr. Jones developed his new procedure and began to teach it to others. He joined Regional One Health in 2014, and in 2016 developed an acute pain service.
To read more about Dr. Jones' efforts to treat pain without the use of opioids, read the Memphis Medical News story.