National Burn Awareness Week celebrates burn center care
Bruce Harrison doesn't recall being a human fireball shot 10 feet in the air. His first memory after the explosion is standing up, looking down and seeing the skin come off his hand.
Bruce and his family were at Horseshoe Lake in nearby Crittenden County, Arkansas. His daughter had trouble recharging the battery on their new watercraft, so he sent her to the dock while he reconnected the charger. Bruce didn't know a faulty O-ring was causing a gas fume buildup, so he couldn't know a spark from the charger would cause an explosion and send him to Regional One Health's Firefighters Burn Center. That's where a team immediately went to work stabilizing Bruce, including treating him for shock and lowering his blood pressure before it killed him.
Once stable, the team began to cut away the burned skin, pulling it from his hands, arms, torso, armpits and ears. They covered him with a skin-like medicine, and the process of removing the damaged skin was repeated every other day for months. But ultimately, Bruce recovered and again resembled his former self.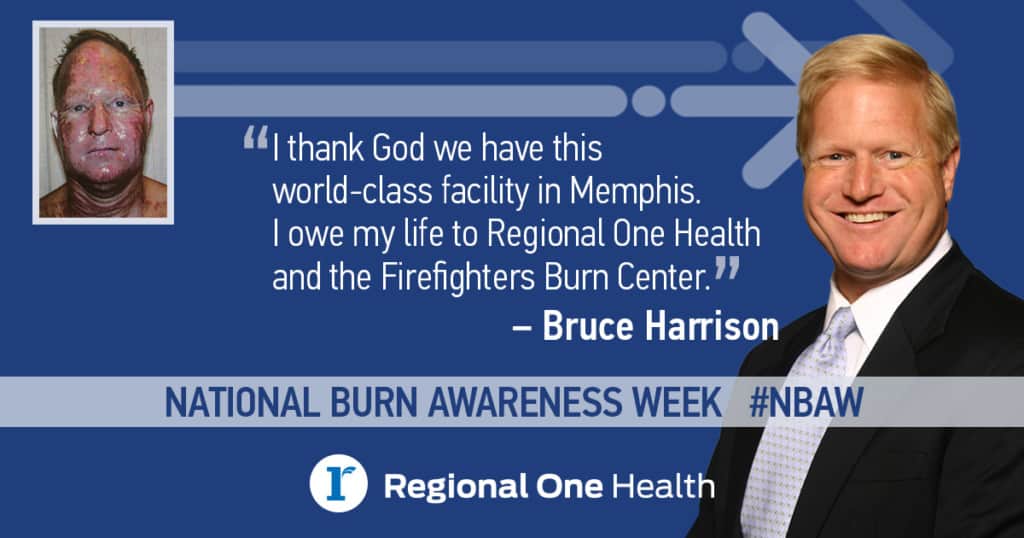 The Firefighters Burn Center treats more than 550 patients annually, including 300 inpatient admissions. It's part of the American Burn Association, which is holding National Burn Awareness Week the first full week of February. Running Feb. 4-10 this year, it's an opportunity for burn awareness and prevention messaging by the organization's more than 2,000 members in the U.S., Canada, Europe, Asia and Latin America, consisting of physicians, nurses, occupational and physical therapists, researchers, social workers, firefighters and hospitals with burn centers.
Firefighters Burn Center is the only full-service burn center within a 150-mile radius of Memphis, and features 14 beds, an outpatient clinic, surgery facilities, a rehabilitation center, research division and special cutting-edge burn care equipment.
Bruce didn't realize he needed to go to Regional One Health when he called his doctor to meet him at a different hospital. But thankfully his doctor did, and he instructed Bruce to immediately make his way to the Firefighters Burn Center. With no time to wait for an ambulance, Bruce's wife drove him there from Horseshoe Lake, along with an escort from the Crittenden County Sheriff's department.
Bruce's face eventually returned to its pre-burn appearance, thanks to the staff at Firefighters Burn Center. Thousands of variations of Bruce's story occur annually across the U.S. In fact, more than 486,000 individuals are seen annually in emergency departments, minor emergency clinics or physician's offices for the treatment of a burn injury in the U.S. and Canada.
To learn more about our burn care, check out our "Inside the Burn Center" video on our Firefighters Burn Center page.