The Obstetrics Clinic at the Regional One Health Outpatient Center recently received several honors from the Baptist College of Health Sciences, Department of Ultrasound, for their outstanding leadership and support of the school's diagnostic medical sonography program. Under the leadership of Kelsi Weakley, ultrasound coordinator at Regional One Health, students from the program receive clinical training in the clinic.
"Our department works hard to facilitate an environment for learning, and I am proud we were acknowledged for these efforts," said Kelsi Weakley.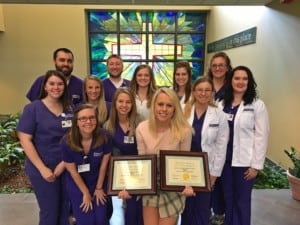 Weakley was awarded the best OB/GYN Instructor and Best Overall Clinical Instructor. In addition, the school chose Regional One Health as the Best OB/GYN Clinic Site and Best Overall Site.
Weakley, pictured with students, accepted the awards on behalf of herself and the department.