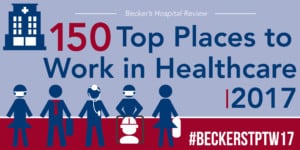 Regional One Health has been recognized by Becker's Hospital Review on their 2017 list of "150 Top Places to Work in Healthcare." This annual listing recognizes healthcare organizations across the country committed to fulfilling vital missions, creating outstanding cultures and offering competitive benefits to their employees.
According to Becker's Hospital Review, the organizations included on this year's list encourage professional development among their employees and promote tomorrow's leaders.  They were selected through an editorial review process to include organizations that have gone above and beyond to make their hospitals, health systems and companies great places to work.
Regional One Health was chosen in the top 150 organizations for its robust benefits, employee recognition programs, and commitment to providing employees opportunities to contribute and institute change across the organization.
The list features both healthcare provider organizations and other healthcare-specific companies.  Click here to view Regional One Health's profile on the list.