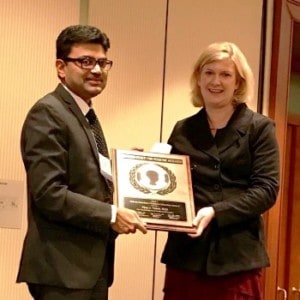 Ajay J. Talati, MD, was recognized  as the Educator of the Year for 2017 by the Southern Society for Pediatric Research. He received the award at the 2017 Annual Southern Regional meeting in New Orleans, February 11-13, 2017.
Dr. Talati is a neonatologist and president of the medical staff at Regional One Health. He is a professor in the Department of Pediatrics and OB/GYN at UTHSC and is also the Program Director of the Neonatal Perinatal Medicine Fellowship.
Pictured on left: Dr. Ajay Talati, receiving the Pediatric Educator of the Year Award from Southern Society for Pediatric Research President, Dr. Sarah Taylor.