Patients can now instantly schedule appointments online with providers at Regional One Health. Regional One Health has launched a new online tool that helps patients seamlessly access care with Regional One Health physicians. Powered by Zocdoc, the leading digital health platform used by millions of patients every month, this service facilitates online appointment-making with participating providers at the Regional One Health East Campus and Harbor of Health. This partnership furthers Regional One Health's commitment to increasing access and enhancing the patient experience.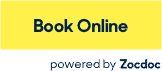 Patients can use this service by visiting RegionalOneHealth.org/Appointments. There, they can see doctors' schedules in real time, along with qualifications, verified patient reviews, photos, and additional tools for selecting providers who best fit their needs. Patients can then choose an open timeslot and instantly schedule their own appointment with just a few clicks. At launch, patients can book appointments digitally with specialists across internal medicine, cardiology, endocrinology, rheumatology, urology, urogynecology and reproductive endocrinology.  Participating providers are part of UT Regional One Physicians, a partnership between Regional One Health and the University of Tennessee Health Science Center, comprised of nearly 200 physicians and advanced practitioners providing health care services in this community.
With this new Zocdoc-powered service, Regional One Health is providing patients with a modern, accessible, simple experience. This service removes friction from the traditional patient experience by eliminating time-consuming phone calls, helping patients book with Regional One Health doctors 24/7 (even when the office is closed), and even sending email and text reminders about upcoming appointments to help reduce no-shows.
"Regional One Health recognized the need for improved access for patients. We have created a better patient experience, giving power to the patients and improving access to our system," said Susan Cooper, chief integration officer and senior vice president of ambulatory services.  "The need for access is clear. Consumers want convenience. This convenient and improved access can lead to better clinical outcomes for patients."
The typical Zocdoc appointment takes place in just 24 hours. This is made possible by Zocdoc's online marketplace that shows doctors' real-time availability to patients who are seeking care. Regional One Health is proud to unite patients and doctors with this cutting-edge technology, and to deliver the great health care experience patients expect and deserve.