More than 100 employees, physicians and board members at Regional One Health took part in a special volunteer opportunity on December 17 to package meals for the Mid-South Food Bank. Regional One Health partnered with Memphis Feeds Initiative to pack 10,000 meals that will be distributed to families in need in the Memphis community and surrounding counties.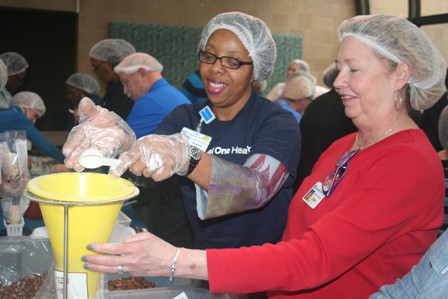 Volunteers lined up at tables with assigned tasks and worked as teams to package the meals. One complete packaged meal included rice, beans and vegetables and will feed a family of six. The volunteers were committed to working until 10,000 meals were packed, which was expected to take about 1 ½ to 2 hours. However, because of the energy and excitement of the packing teams, the volunteers completed 10,152 meals in just one hour!
"Phil Shannon, Chairman of the Regional One Health Board of Directors, introduced the system to the Memphis Feeds Initiative and helped initiate this opportunity for employees to give back to the community in a meaningful way this holiday season," said Angela Hughes, manager of community affairs and engagement at Regional One Health. "This event is aligned with our annual Regional One Health Cares employee community giving campaign and helps to demonstrate our commitment to the community we serve."
About 23,000 people receive food assistance every week from the Mid-South Food Bank.  Hunger is a major concern in our community, and proper nutrition impacts both health status and quality of life. During this holiday season Regional One Health is excited to have this opportunity to give to others in the community and to help provide nutritious and hearty meals on the dinner table of 10,000 families.