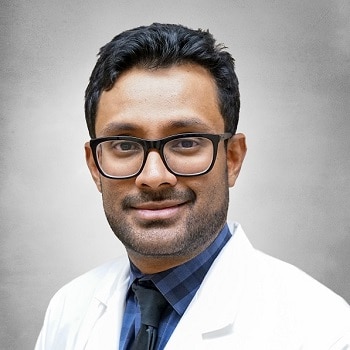 Ram Velamuri, MD, FACS, MRCS, DNB
"It isn't just life; it's quality of life. We help patients find value in life, and that's very important."
Academic Title
---
Burn Fellowship Program Director, University of Tennessee Health Science Center
Certification
---
Plastic Surgery
Medical Degree
---
Padmashree Dr. D.Y. Patil Medical College
Fellowship
---
Burn and Reconstructive Plastic Surgery, Johns Hopkins University
Residency
---
General Surgery and Plastic and Reconstructive Surgery, St. Louis University School of Medicine
Ram Velamuri, MD, FACS, MRCS, DNB is the Medical Director of the Firefighters Burn Center, the only verified burn center in a 250-mile radius of Memphis.
Working with burn patients is a challenge, but one Dr. Velamuri embraces with skill and compassion. At the Firefighters Burn Center, he leads a team that takes a multidisciplinary, family-focused approach to caring for patients.
Dr. Velamuri earned his medical degree at Padmashree Dr. D.Y. Patil Medical College in India. He completed residencies at Saint Louis University School of Medicine and a fellowship at Johns Hopkins University.
He is a member of numerous professional organizations, a sought-after presenter at national and international conferences and author of over a dozen publications and articles. He is Burn Fellowship program director at University of Tennessee Health Science Center.
Dr. Velamuri is grateful for mentors who have shown him the important role plastic surgeons play in the successful treatment of burns.
As a board-certified plastic surgeon, he works with patients not only when they need critical care, but when they are recovering and returning to day-to-day life. By providing lifesaving surgeries and those that address cosmetic and functional deficiencies, Dr. Velamuri helps patients achieve not only life, but quality of life.