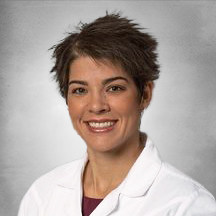 Jaclyn Bergeron, MD
Hospitalist services at Regional One Health
Certification
---
Internal Medicine, Pediatrics
Medical Degree
---
University of Tennessee Health Science Center
Residency
---
Internal Medicine and Pediatrics, University of Tennessee Health Science Center (Chief Resident)
Jacyln Bergeron, MD is a member of the hospitalist service at Regional One Health, helping to oversee medical care for patients hospitalized with a variety of conditions. Dr. Bergeron is dual board-certified in internal medicine and pediatrics.
After earning her medical degree at University of Tennessee Health Science Center in Memphis, Dr. Bergeron remained at UTHSC to complete her residency in internal medicine and pediatrics, serving as chief resident.
She has earned numerous awards throughout her career, including the Arnold P. Gold Humanism Award for compassion, excellence and leadership in clinical care; and the Golden Apple Teaching Award, which recognizes residents for excellence in clinical education and teaching.
Dr. Bergeron's research and clinical interests include the effective mobilization of patients in the hospital to reduce length of stay and improve outcomes, as well as transitioning from inpatient to outpatient care in under-resourced communities.
She is also an active volunteer, donating her time to The Avenue Community Church, YoungLife and Art for Jobs-Advance Memphis.