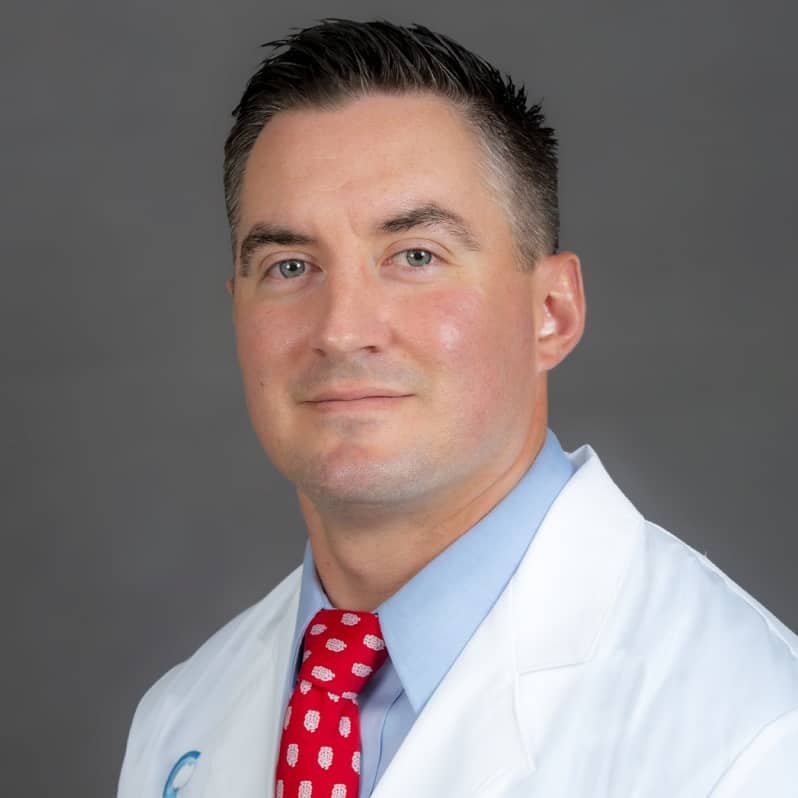 Certification
---
American Academy of Orthopaedic Surgeons
Medical Degree
---
Rutgers-New Jersey Medical School
Fellowship
---
Spine Fellow, Norton-Leatherman Spine Center
Residency
---
University of Tennessee-Campbell Clinic
Chad Campion, MD is a fellowship-trained spine surgeon with clinical experience in the comprehensive treatment of spinal disorders from the neck through the low back. He has clinical interests in minimally-invasive techniques, motion-preserving (non-fusion) surgery, adult deformity, and revision surgery, as well as the treatment of spinal tumors. Dr. Campion is also trained on the latest surgical techniques in spine, including the use of computer guided navigation and robotics.
Dr. Campion earned his medical degree at Rutgers-New Jersey Medical School. He completed his residency at University of Tennessee-Campbell Clinic and his spine fellowship at Norton-Leatherman Spine Center.
He is a member of the North American Spine Society and American Academy of Orthopaedic Surgeons.
Dr. Campion believes that surgery is the last option in the treatment of spine related issues and works to provide the latest non-operative treatments. When surgery becomes the only treatment option, he believes the patient and their family should play an active role in the treatment team. This includes pre-operative optimization, immediate post-operative rehabilitation and long-term spine health. To accomplish this, he believes it is important that everyone on the team have a thorough understanding of the surgery, its goals, and the expected post-operative course.
Dr. Campion lives in Lakeland with his wife MK, a Collierville native. He and his wife both enjoy an active lifestyle of running, working out and golf. They also enjoy cheering on the Mississippi State Bulldogs during college football season. Their love an active lifestyle is one of the reasons why Dr. Campion focuses on helping his patients get back to the hobbies and lifestyle they enjoy.
Locations