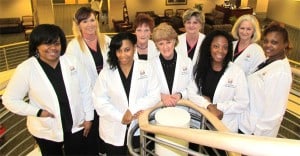 Our team understands your hopes and dreams of having a baby. We provide the assistance with accomplishing that goal. We offer education and encouragement to our patients to alleviate emotional stress. With treatment and a positive attitude there is a better chance for conception to take place.
Each couple is unique; therefore, your therapy will reflect your wants and needs. We not only offer services for women but men as well; each partner's fertility is able to evaluated.
Our highly skilled team has many years of experience and a vast knowledge of reproductive wellness. The reproductive endocrinologist has been named to Best Doctors® list on many occasions.
We continue to stay informed and equipped with the latest medical technology to enhance your fertility outcomes. Our office has an onsite, state of the art laboratory, which is an important element for a successful fertility center and program. The Embryology Laboratory Director has over 20 years of successful pregnancies. The laboratory is accredited by:
    Food and Drug Administration (FDA)
    American Association of Bioanalysts (AAB)
    Clinical Laboratory Improvement Amendments (CLIA)
    Society of Assisted Reproductive Technologies (SART)
    American Society for Reproductive Medicine (ASRM)
    The State of Tennessee
We thank you for considering our practice to assist with your family expansion.
---
Please call

901-515-3100

to reach our office or make an appointment.
Regional One Health Reproductive Medicine | 6555 Quince Road, 5th Floor | Memphis, TN 38119