The Phone Call Every Police Officer's Spouse Dreads
On February 13, Renita Couch of Southaven got the phone call every police officer's spouse dreads, her husband, Derrick, a police officer in Clarksdale, Mississippi, had been shot by a robbery suspect.
INSTANTLY, EVERYTHING SEEMED SO SURREAL. THEY TOLD US HE WAS BEING AIRLIFTED TO REGIONAL ONE HEALTH, SO A FRIEND AND I TOOK OFF FOR MEMPHIS. WE BEAT THE HELICOPTER THERE—THAT'S HOW FAST WE WERE GOING.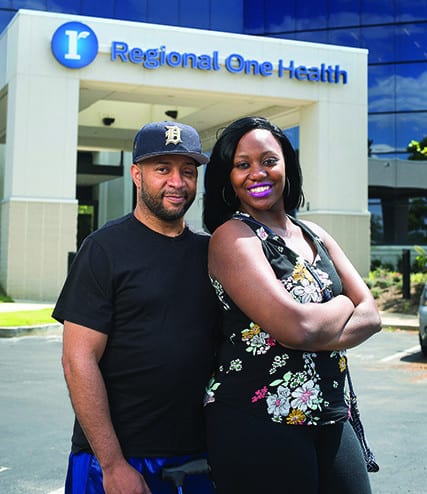 In her moment of need, she felt like she was taken care of by the staff at Regional One Health. "They knew exactly who I was when I walked through the door. They had an area set aside just for me and family members. Officers from the Memphis Police Department were already there, too, offering their support."
When Derrick came in, he was unconscious and intubated. There was blood on his face; the bullet had entered near his eye. "It broke my heart to see him like that," Renita says. "We honestly didn't know if he would make it."
Derrick had been brought to Regional One Health's Elvis Presley Trauma Center, the only Level 1 trauma center in the Mid-South. Surgeons there performed emergency brain surgery. Other surgeries followed, all of them successful.
Still, Derrick stayed in the hospital for a grinding 67 days.
"It was like my body just went on autopilot," Renita says. "When you're in a situation like that, you just do what you have to do. Go to the hospital, go home and take care of the kids, go back to the hospital. I didn't think about it; I just did it. I probably still haven't had time to really process it all."
She says she couldn't have done it without the support of the Regional One Health staff. "They helped me with whatever I needed until we got settled in. Then Derrick was assigned a case manager I could talk to if I had any problems or questions. I could tell he was getting the best possible care, so that made it much easier."
Renita also felt supported by the MPD and the community at large. Derrick's case drew media attention from as far away as England. E-mails and letters offering prayers of support came in from all over.
"The MPD had someone there at the hospital around the clock until he got out of trauma. That was about three weeks," she says. "Police Director Mike Rallings came by more than once and sat and talked with me. That kind of support was amazing, because Derrick isn't a Memphis police officer."
When it came time to go home, Derrick and Renita were escorted by a caravan of police vehicles from all over west Tennessee and north Mississippi. Well-wishers lined the roads.
But going home didn't mean Derrick's medical care was finished. Months of rehabilitation lay ahead. Renita was pleased to learn that Regional One Health offers outpatient rehab services, both downtown and at the new Regional One Health Outpatient Rehabilitation Center at Quince Road and Kirby Parkway.
"We were happy to be able to stay with Regional One because of the excellent care Derrick had already received," she says. "Because they knew his medical history and all his info was in their system, the care continued without a pause. We didn't have to go through the process of getting medical records transferred and explaining things all over again. It was just a continuous flow."
And today? "He's doing great," she says proudly. "He's up and walking. He's regaining his verbal abilities. They say he's regained 70 percent of his ability to find the right words in conversation."
Of course, Derrick still has a way to go. He may never regain 100 percent of his abilities. Still, Renita says, "He's a miracle. There's just no other way to put it."
I'M THANKFUL FOR ALL THE LOVE AND SUPPORT WE'VE RECEIVED FROM SO MANY. BUT MOST OF ALL, I'M THANKFUL THAT MEMPHIS HAS A LEVEL 1 TRAUMA CENTER, BECAUSE WITHOUT THAT, WE WOULDN'T BE HAVING THIS CONVERSATION.
Please help save more lives like Derrick's by making a tax-deductible donation today.