Our mission at Regional One Health Foundation is to advance medical excellence and realize a bright future for healthcare in Memphis and across a five-state region. Our Foundation raises funds to support special, nonoperational projects throughout the entire Regional One Health system. Your gift brings hope and healing to thousands of patients in our community by helping us purchase state-of-the-art medical technology, provide advanced medical training for our caregivers, and initiate programs to combat various community health issues.
"I AM ALIVE AND WALKING TODAY BECAUSE OF THE TREATMENT I RECEIVED AT REGIONAL ONE HEALTH."
The Importance of Philanthropy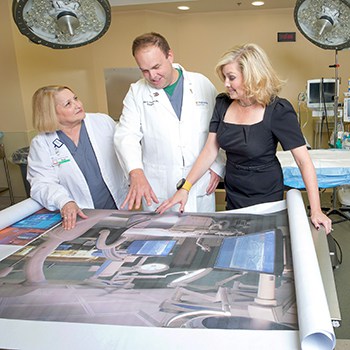 The landscape of healthcare in the United States is undergoing the most significant period of change we have seen in our 185-year history. At Regional One Health Foundation, we believe that times of great change are also times of great opportunity. As the medical community adapts to new realities, the healthcare institutions that thrive will be those that can deliver world-class care while managing costs; caregivers who realize the importance of transitioning chronic disease patients from treatment to prevention; and hospital systems with dedicated professionals who focus on innovation and constant improvement.
We have been champions of medical excellence for 185 years at Regional One Health. With the generosity of our donors and supporters, we will continue to lead through innovation, research and academic training, not just in Memphis and the Mid-South, but nationally.
Impacting Medical Care
Through your generous gifts, Regional One Health Foundation continues to fund improvements and advancements in healthcare. Every gift we receive is important and potentially life saving. These are just a few of the ways your donations have supported the bright future of healthcare at Regional One Health:
Expansion and renovation of the Firefighters Burn Center at Regional Medical Center
Establishment of a Nurse Residency Program in conjunction with the University of Memphis
Providing training opportunities on trauma assessment skills for first responders in neighboring Arkansas and Mississippi
Building a state-of-the-art infusion room, where all infusion services are administered in one soothing, healing environment
Funding no-cost mammograms for uninsured patients
Purchasing state-of-the-art laparoscopic simulation equipment to help train medical residents on new surgical procedures