Elvis Presley Souvenir License Plates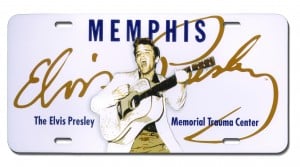 Show your love for the King of Rock 'n' Roll, by proudly displaying an Elvis Presley Trauma Center Souvenir License Plate! These collector-quality replica license plates are only $19.95. They are fully endorsed by Elvis Presley Enterprises. If you live in Tennessee, you can purchase an official  state-issued, Elvis specialty plate at your local Count Clerk's Office.  All proceeds directly benefit Regional One Health Foundation to support special projects and programs for the trauma center that proudly bears Elvis Presley's name.
Help ensure Elvis' memory lives on by purchasing your souvenir license plate by calling 901-545-6006 and ordering one or more today.