Give through payroll deduction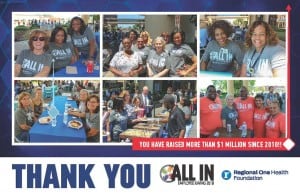 The annual Employee Giving Campaign, ALL IN, is an opportunity for Regional One Health employees to further demonstrate their support of the important work done throughout the Regional One Health system of healthcare services. All gifts make a positive impact on the lives of the patients Regional One Health serves.
Donations can be deducted directly from your paycheck or through a one-time donation by cash, check or credit card.
If you are a Regional One Health employee and would like to contribute through payroll deductions, please contact us at 901.545.6006.
» Click here to make an online donation today and help us save another life
You may also, download the Employee Contribution Form, complete and submit to Regional One Health Foundation.