Certified Nurse Midwives at Kirby Primary Care
Providing For All Your Gynecological Needs

Well-Woman
Services

Prenatal & Postnatal
Care

Birth Control
Counseling

Gynecological
Exams
Our Certified Nurse Midwives encourage women to be an active part in their health.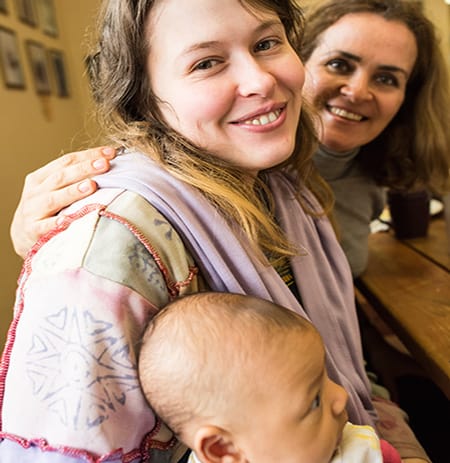 The Regional One Health Midwife Team sees patients the Kirby Primary Care Clinic Monday through Friday for a wide range of services to women of reproductive age, including:
Preconception care
Comprehensive prenatal care including optional group prenatal care
Annual examinations
Gynecological examinations
Birth control counseling and management
Breastfeeding education and support
Labor support and management of vaginal deliveries
Postpartum care
Regional One Health is the only hospital in Memphis where women can deliver with the support of a certified nurse midwife, well-woman care, gynecological exams, birth control counseling, postnatal care and more. Certified nurse midwives Maria Hallford, Davin Johnson, Breia Loft, Meghan Madea, Edna Tucker and Amanda Williams offer "low-technology, high-touch" care for women at all stages of life.
Kirby Primary Care, is also a neighborhood family medicine practice where providers build genuine relationships with patients to keep them on the path to improved health and well being.
A true multi-generational healthcare provider we can care for all generations of your family during a single visit.
To make an appointment, call us at (901) 515-5350
Our primary care team includes physician Dr. Cecilia Dowsing-Adams and certified family nurse practitioners Amanda Best, Carol Simmons and Jeff Stricklin. They have vast experience caring for children, adults and seniors and share a commitment to partnering with patients to address their needs through preventative medicine, treatment of chronic and acute conditions and more.
Monday – Friday, 8:oo a.m. – 5:00 p.m.
Schedule an appointment today.
To make an appointment, call us at (901) 515-5350
Certified Nurse Midwives at Regional One Health work with expectant mothers to create a unique plan. Midwives are there to serve as advocates and friends to expectant mothers through the whole process.
Our  Certified Nurse Midwives are defined as primary care providers under federal law and are licensed, independent health care providers with prescriptive authority in all 50 states. Because of this, if they are in your insurance network, their fees are covered.
No, at this time, Regional One Health does not offer water birth services.
You don't need both. Certified Nurse Midwives are primary care providers under federal law with prescriptive authority in all 50 states. They provide women's services such as primary care, gynecologic, family planning services, pregnancy care, childbirth, the postpartum period, and newborn care during the first 28 days of life.
One of the many positives about Regional One Health's midwives working in a hospital setting is patients have access to epidurals if requested and all the labor support afterward.
Emergencies can arise during delivery. Regional One Health is the only hospital in Shelby County that staffs Certified Nurse Midwives as part of its OB/GYN team, giving expectant mothers the safety net of a hospital setting.